This update brings a whole new Marketing module, more options for subscription sellers and requested improvements across the board.

Our mission is to help you setup your online sales channels, but also to help you increase your revenue in the process, which is why we decided our users need an easy way to use email marketing, right from within our platform.
This way, you don't have to pay for an email marketing tool and can focus on your sales and marketing activities, while managing everything from a single place. You can import and export your contacts at any time, so we don't keep you locked in.
This feature is included in all plans and has no limits. However, in order to send marketing emails, you will need to add your own SMTP credentials.
Mailing Lists
You can now create unlimited Mailing Lists, that you can use to segment and re-target your customers and prospects. Each list also has a Subscribe form that you can embed on your site, and comes with a versatile customizer: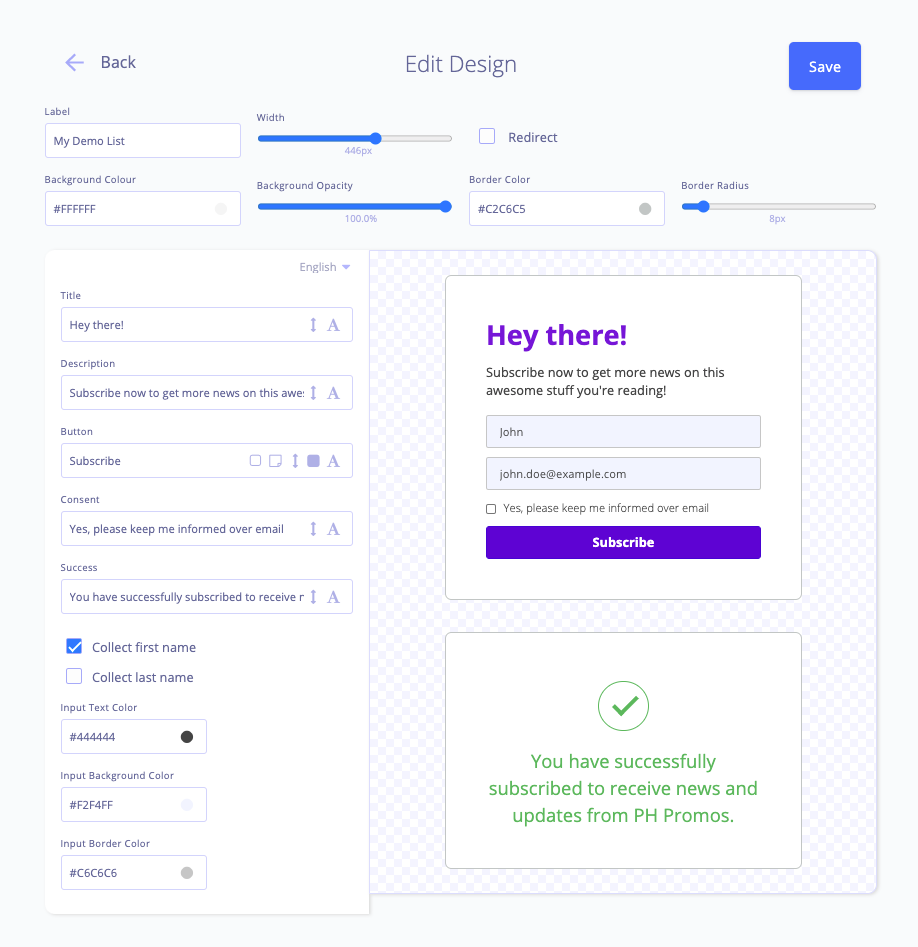 The embeddable form can be easily modified to fit your website's design, allows you to change the text in multiple languages and to optionally use a redirect URL after the visitor subscribes, for users that need to start a funnel with this form.
People that subscribe using this form need to confirm, by clicking a confirmation link that comes to their email address. This double opt-in functionality is mandatory and cannot be disabled, due to privacy reasons (we hate unsolicited emails as much as the next person).
Email Templates
In order to send an email to one or more Mailing Lists, you need to create the email content first. Adding an Email Template is simple, and you can easily customize the font, colors, add images, lists, tables, links or emoticons.
The customizer also shows you a preview of how your email will look in a person's inbox, including the preview section (its importance is highly underestimated - most people decide whether or not to read your e-mail based on this text).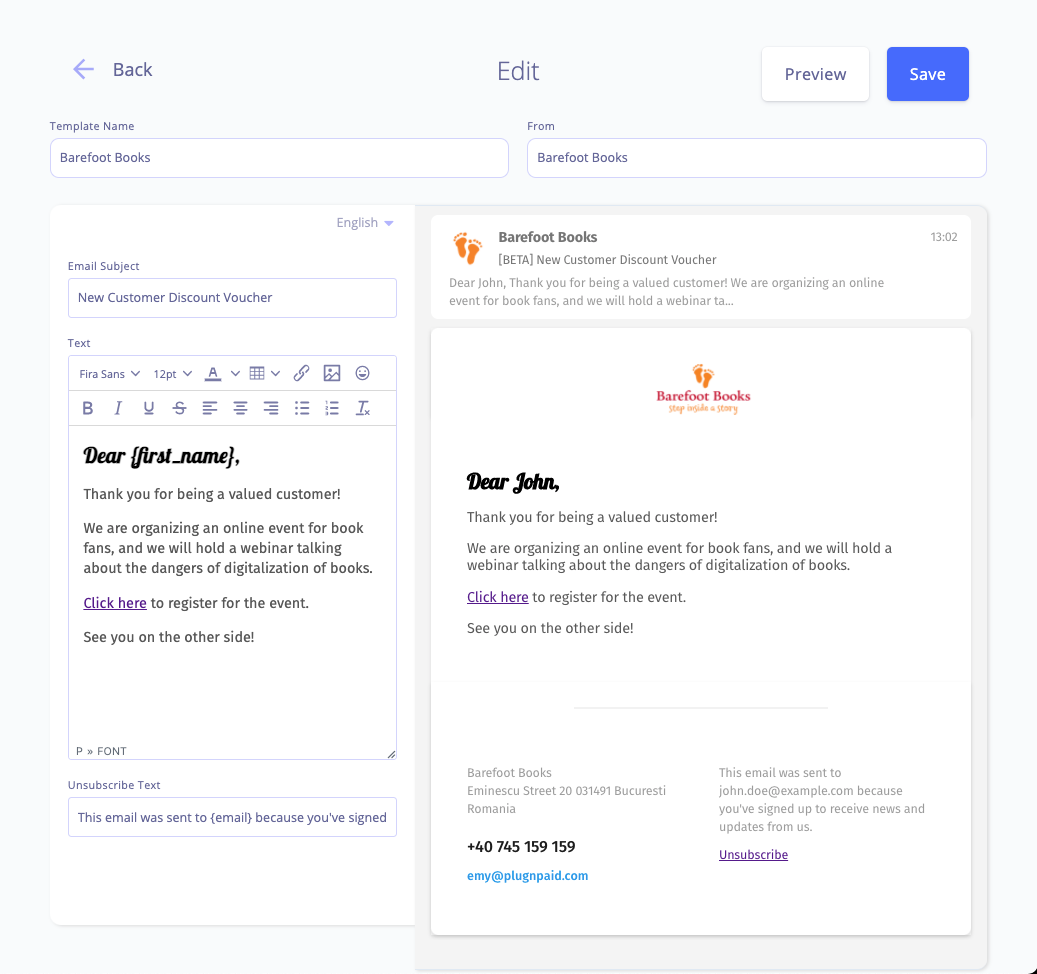 Because we're encouraging cross-border sales, you can save your email template in multiple languages, and the system will match your subscriber's country to the language of the email they receive.
Campaigns
By creating a Campaign, you can send an email to one or more lists, and you can choose to send it now or schedule it for later. When opening the campaign's details sheet, you can find the metrics you expect inside:
Subscribers
Your subscribers can unsubscribe at any time, with an easy 1-click unsubscribe link in their emails. If they clicked by mistake, they have a 1-click re-subscribe link to continue receiving marketing emails from you.
If you want to send an email to a single subscriber, you don't have to create a campaign. Simply use the "Send E-mail" button on the subscriber's sheet.
You can also import contacts from CSV files or manually, on demand.

New Subscription Payment Methods (Stripe Merchants)
European merchants can now use SEPA direct debit, iDEAL, Bancontact and Sofort as payment options when selling billing plans. Enabling multiple methods will allow the customer to choose which one they prefer during checkout.
The requirements to enable the new payment methods are:
The Subscription being sold must be in euros (EUR).
The payment gateways must be activated in your Stripe account.
During checkout, the customer will be redirected to authorize their bank for off-session transactions.
Note that SEPA based Direct Debits (including iDEAL, Bancontact & Sofort) are never retried. If the customer does not pay, their subscription will automatically be cancelled, regardless of the settings configured in your plug&paid and Stripe accounts.
Additionally you can offer to your customers the option to switch their default payment method; for example from credit card to SEPA direct debit etc. To enable this option, edit or add a subscription product and scroll to find the new "Payment Gateways" option.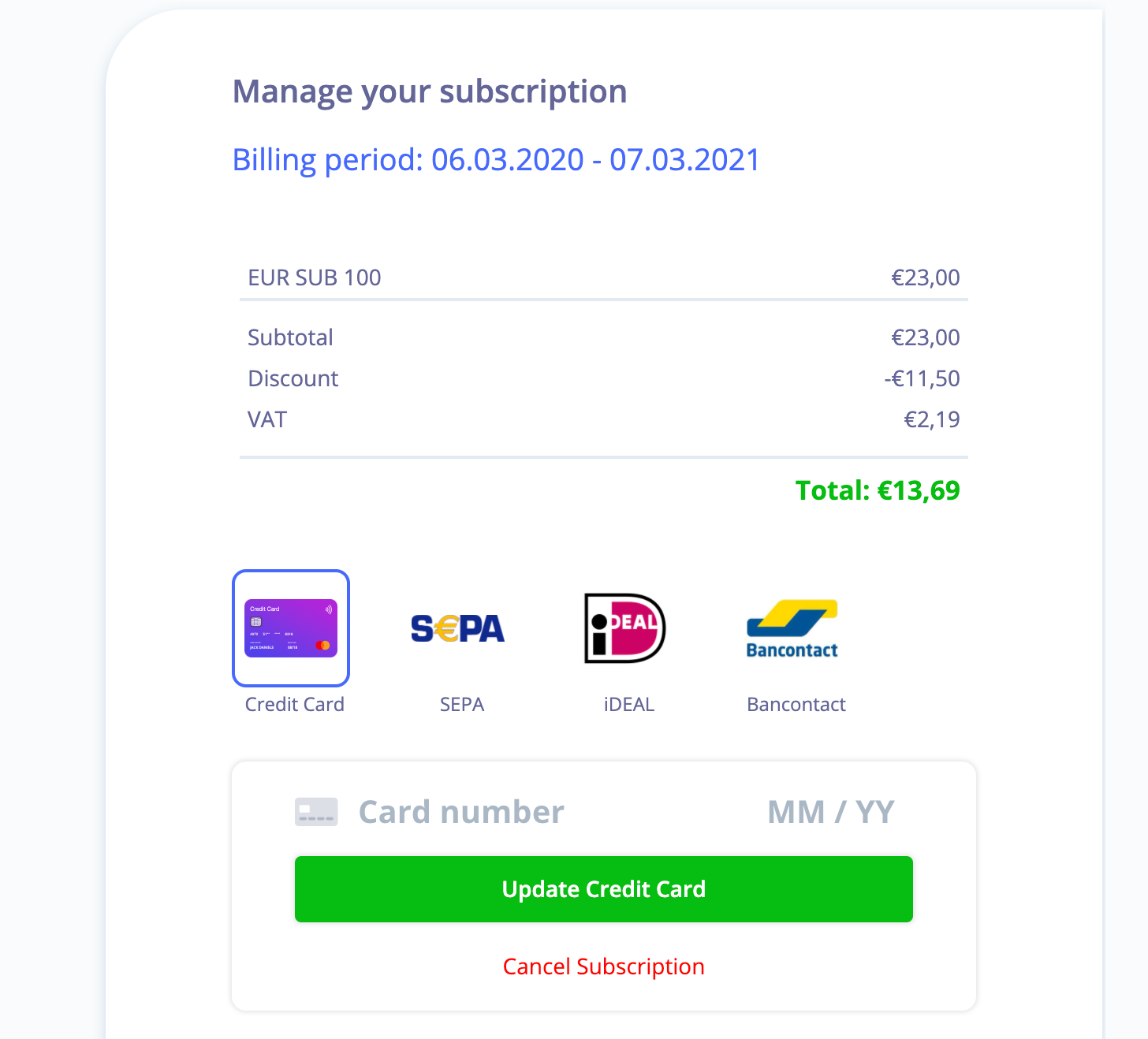 New Features
You can now choose how many retries you would like to allow for a billing plan and what to do when the maximum number is reached (some options might be overwritten by your Stripe billing settings);
You can now add/remove taxes on ongoing subscriptions;
Checkout now supports selling multi-quantity subscriptions. This is now the default option. You can turn this off by setting the Order Limit of your product to 1.
Custom Taxes
We added a new module under Settings, called "Taxes and Fees", where you can set up your sales tax, markup fees or any other type of tax. This unlocks taxes for all countries on Earth and we're excited to launch this as a new feature!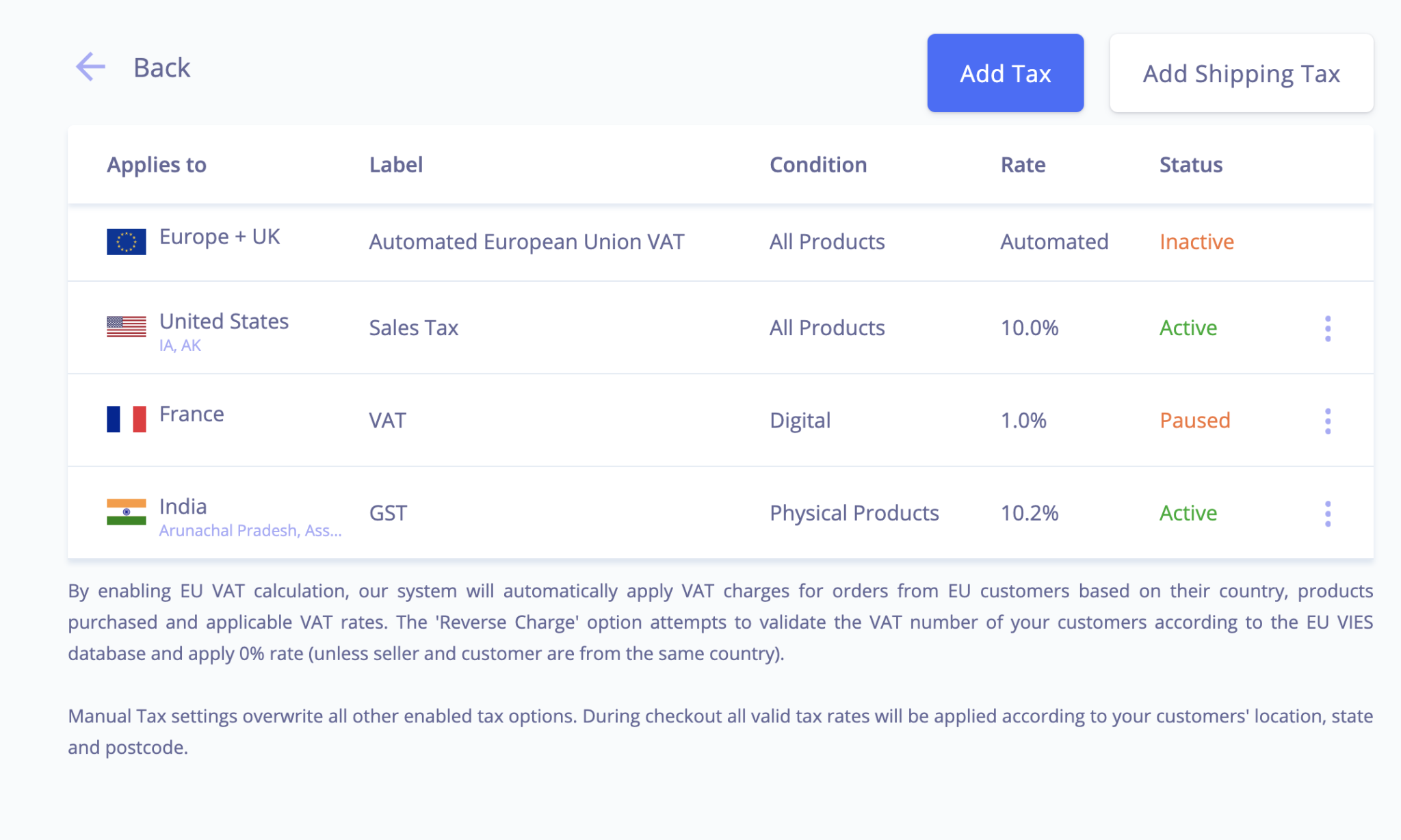 You can add, edit, duplicate, pause and activate taxes on the fly. There is no limit on how many taxes can be created or applied to an order.
Key features of the new tax module:
Option to apply the tax on specific products, specific product categories or all your inventory.
Option to apply the tax on a country or state. Currently state level taxes are supported for the following countries: Australia, India, Malaysia, United States, and Canada. If you like us to add state level support for your country lets us know.
Option to apply the tax according to the selected payment gateway chosen at checkout. For example you can setup a 10% Tax that only gets applied if Cash on delivery is used during checkout.  
You can name the tax as you need, according to your local accounting specifications.
Option to charge a fixed amount instead of a percentage. This is useful if you like to charge an extra fee if an order meets some requirements.
Shipping taxes that you can filter to apply on specific shipping methods or all your shipping methods.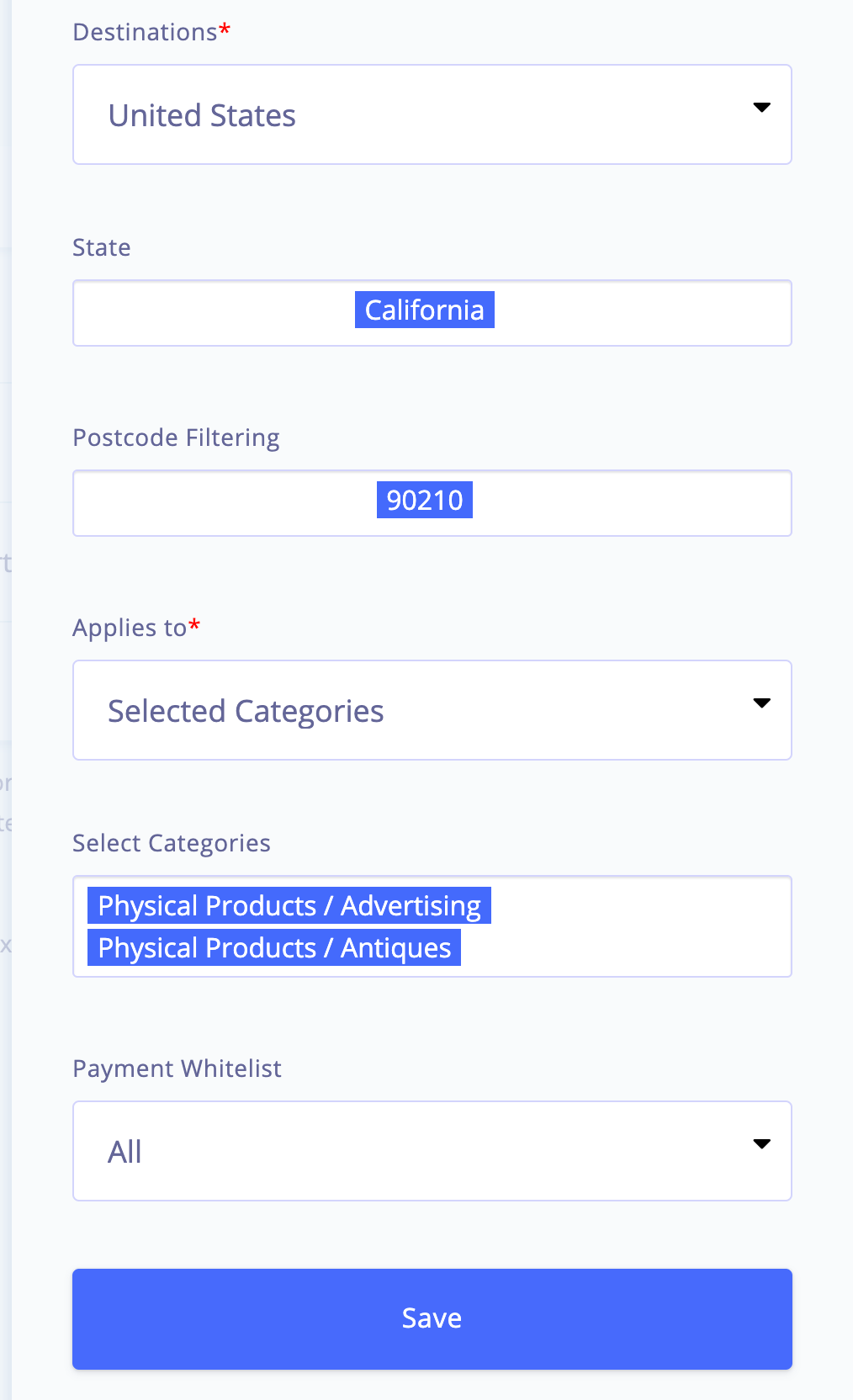 Improvements for EU Automated Taxes
VAT sales require evidence of the customer's location. Usually the customer's billing address on the invoice is sufficient; however not in all cases, and especially when it comes to B2B transactions. To make your life easier, all VAT sales now have an "Evidence" section with customer classification and any relevant evidence that were provided during checkout;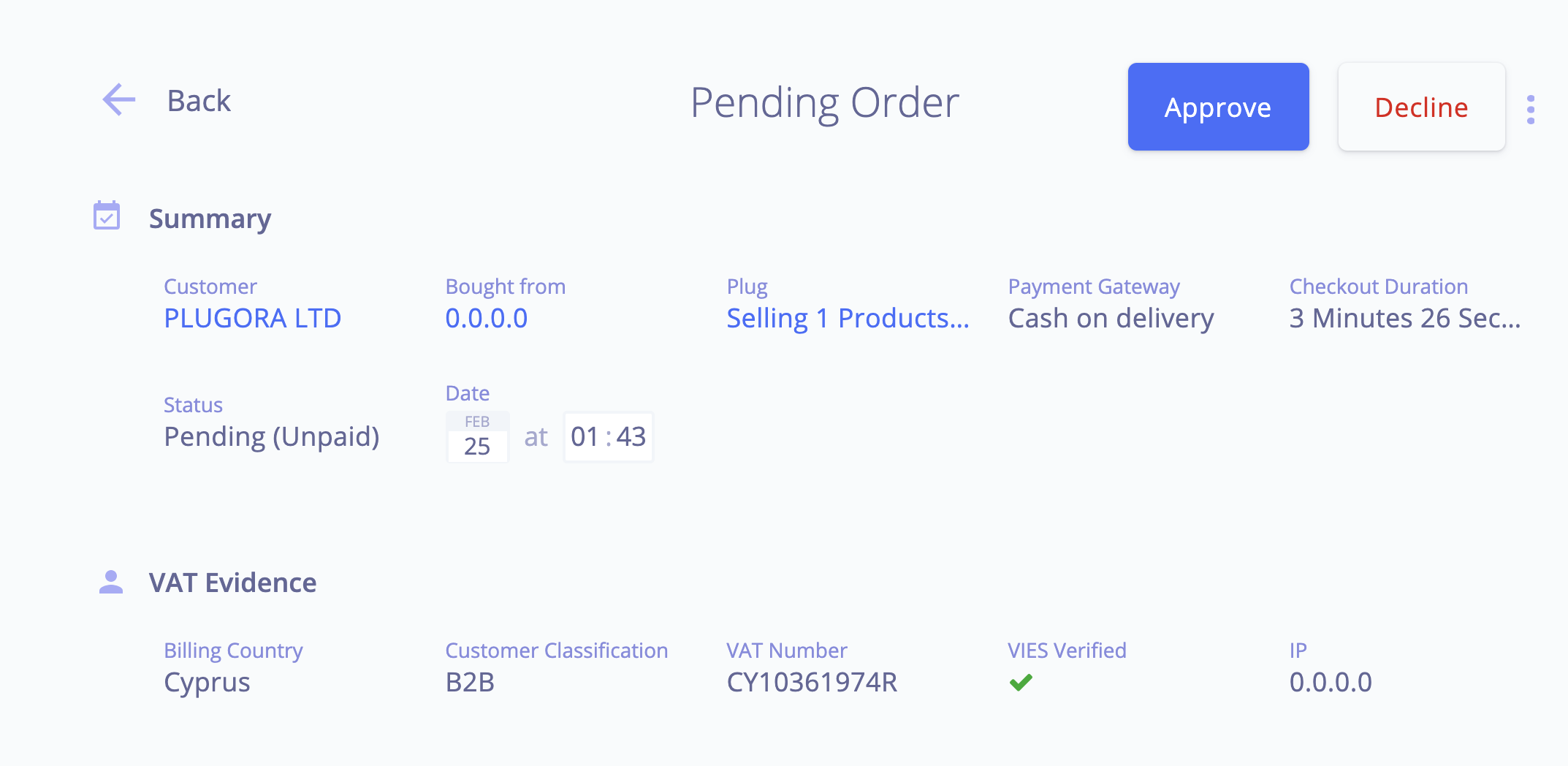 plug&paid automatically attempts to verify any VAT number provided during checkout with the EU's VIES database. If we successfully do so, then a green checkmark will be displayed on any relevant sales alongside the customer's IP address as shown above.
2. Added support for West Indies Guadeloupe / Martinique / La réunion, where VAT is 8.5%. The correct VAT is applied according to the customer's postcode.
Custom Shipping Methods
We added a new, central place where you can find and manage all of your Shipping Methods. It is located in the sidebar, under Settings. Moreover we released a bunch of new features for manual shippings that you will love!
Shipping methods can now be mapped to multiple plugs at the same time.
You can now import and detach shippings on a plug.
You can now duplicate, activate and pause shipping methods.
You can now add new Shipping Methods, and map them to states. Currently state level shippings are supported for the following countries: Australia, India, Malaysia, United States, Germany, Romania and Canada. If you'd like us to add state level support for your country, let us know.
You can now map Shipping methods to postcodes (all countries).
Each custom shipping method has its own sheet with useful information such as the plugs that is attached to, bundling rules and related sales.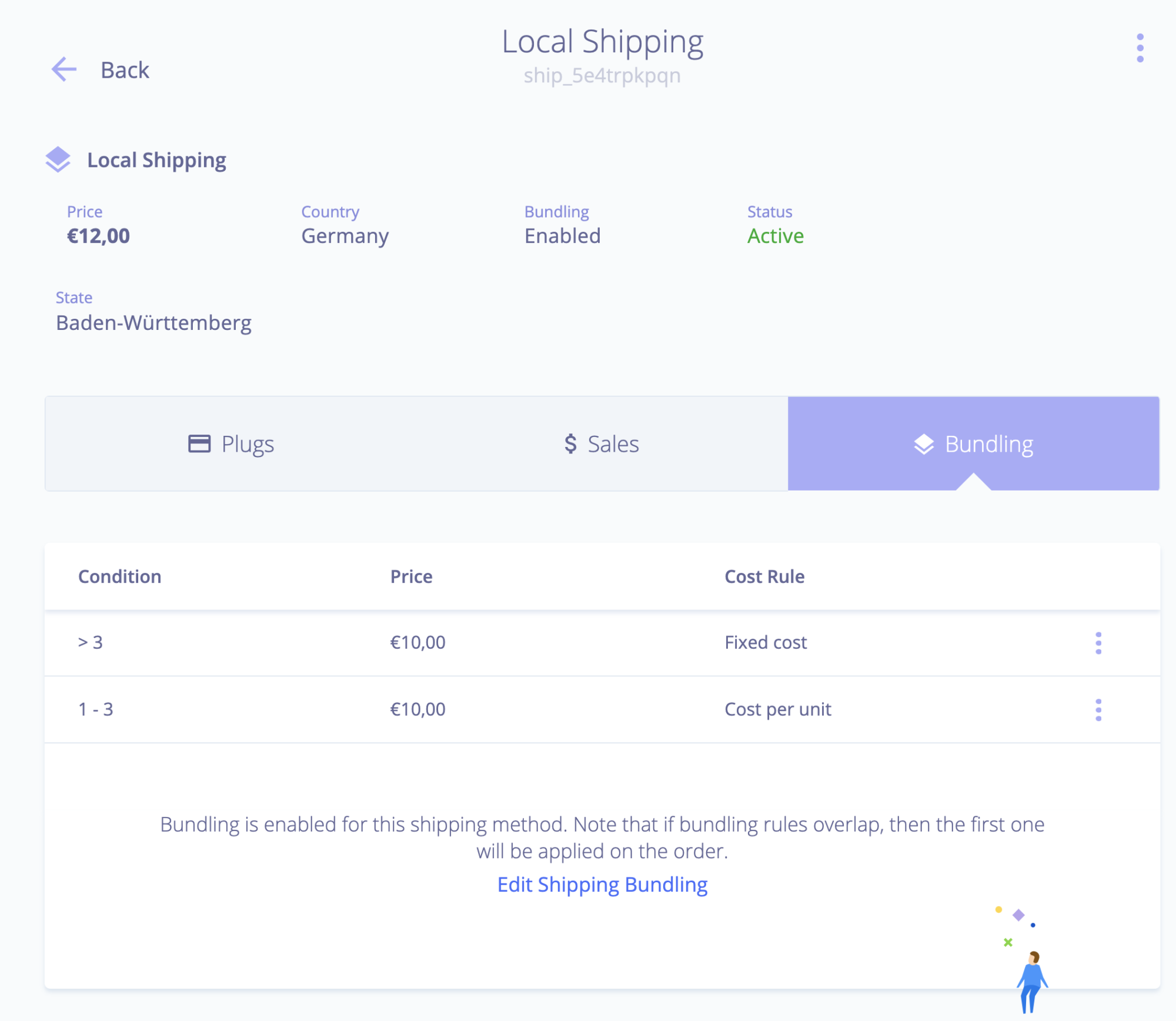 We've also expanded our support for bundling with new custom options. These new options support "range" and "minimum quantity" rules. Moreover, each rule can be set to apply as a fixed cost or per unit, giving you additional flexibility when setting up your checkout flows.
Improvements
You can now enable Customer Portal access to old customers;
You can now force all checkout sessions to create accounts in your Customer Portal (bypassing the opt-in consent), from your Customer Portal settings;
You can now edit "bank transfer" invoices;
Added a progress-bar when uploading a digital file, to avoid interrupting the upload by closing the sheet before it is done uploading a large file;
Added an option to show optional consents with a checkmark at checkout;
Added more audit entries in the Events tabs across the dashboard app;
Audit entries in the Events tabs are now translated into your local Dashboard language;
You will now receive an email asking to re-attach your PayPal when the access token expires or when you are selling items in currencies that your PayPal does not support;
The date widgets across the whole dashboard app now show the year as well, if it's not the current year;
Bug Fixes
Fixed a bug that was causing an error to be shown when changing the rounding settings for German users;
Fixed a bug that was showing the plug&paid logo instead of the merchant logo in the 404 pages hosted on custom domains;

Order Bumps can now be removed from the cart, if the customer changed their mind;
Added Facebook Pixel tracking for abandoned cart events, if you added your Pixel id in your Plug Settings (Public BETA);
Added support for a new currency: UAH;
Updated Stripe APIs;
We have decided to discontinue support for Multibanco until further notice, due to obsolete APIs. If you need to offer Multibanco at checkout, please submit a request to our Support team.
Bug Fixes
Fixed a bug that was causing the quantity field to not show at checkout for Services with unlimited quantity;
The conversion rate shown at checkout now properly updates when the customer changes the country from the dropdown;
Fixed an issue where the customer name was sometimes not properly shown in the "failed payment" email;
Fixed an issue that was causing the "Leave a Review" button to be missing from purchase emails under certain conditions;
Fixed an issue where Stripe transactions were failing if the customer name was under 3 characters;
Fixed a bug where the US State in the purchase email for customers from the USA was not showing correctly;

You can now extend or end trials for your subscriptions with your clients;
You can now add cents to your client billing plans' transaction fee (e.g. 5% + €0.30 per transaction);
Added option to "do not issue invoices if usage cost is €0" for Superbolts client billing plans;
Fixed an issue where the invoice prefix was showing "PNP" for Superbolts client emails;
---
---