With the start of the holiday season we bring you version 6.4. This is another major release with many improvements, bug fixes and optimisations across the whole product.

Before we start with the updates, we have a few important announcements:
German VAT will be raised back up to 19% starting January 1st 2021.
With the next update, CTAs will no longer be maintained. CTAs were the precursor of 'Channels', and were discontinued in December 2019. Click on "Channels" in the sidebar and if you have CTAs, they will have a warning icon. Make sure you stop using any CTAs (old links, buttons) and replace them with Channels.
Our team is actively reviewing the Brexit situation and will announce any changes needed as soon as possible.

Stripe users in Malaysia and Singapore can now accept payments with GrabPay in their respective local currencies (MYR & SGD). The requirements to use GrabPay are:
you own a Stripe account based in Malaysia or Singapore;
you are selling in MYR or SGD;
your customers are from Malaysia or Singapore;
GrabPay is available across the whole plug&paid platform, including plugs, invoices and affiliate payouts.

Pause/Unpause Subscriptions
Active subscriptions can now be paused/unpaused at any time. You can choose to offer services for free or void all upcoming if you cannot provide your services for a period of time.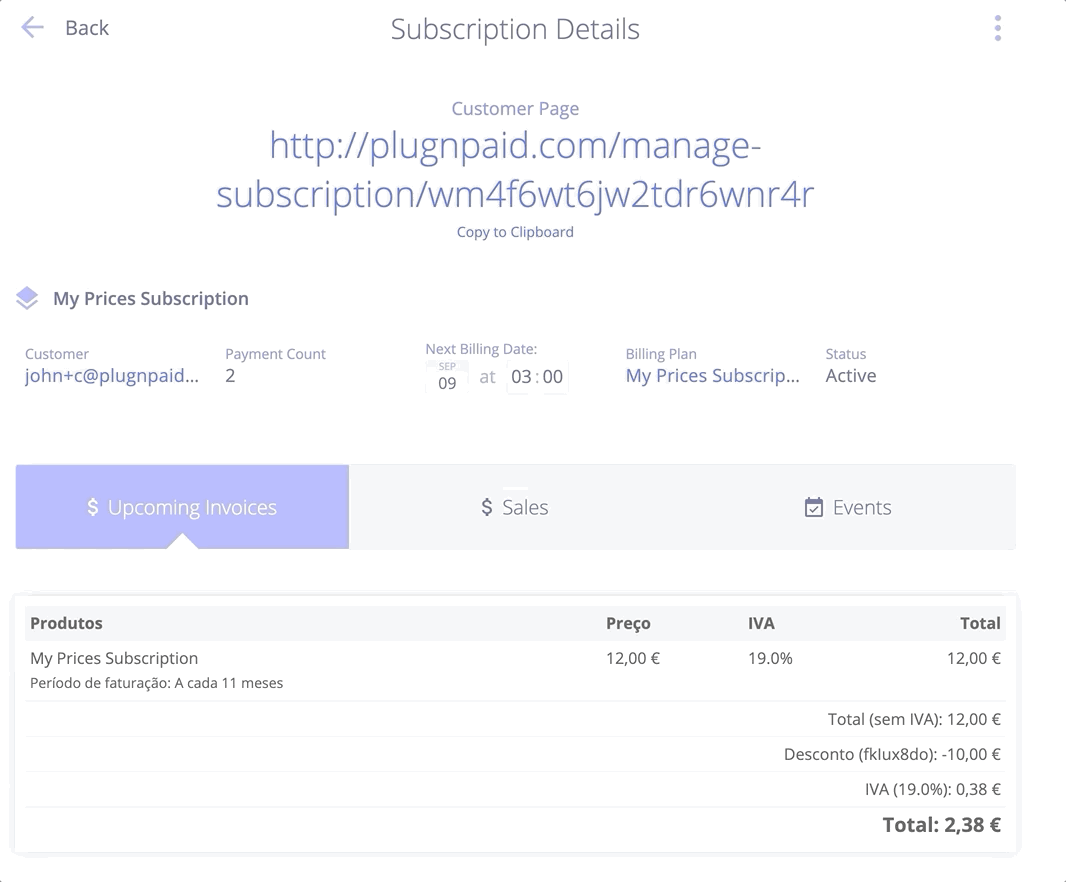 Manage Discounts
You can now add and remove discounts from an active subscription at any time. When creating a discount, you have the option to offer a discount (fixed amount or percentage) once, a specific number of months, or lifetime.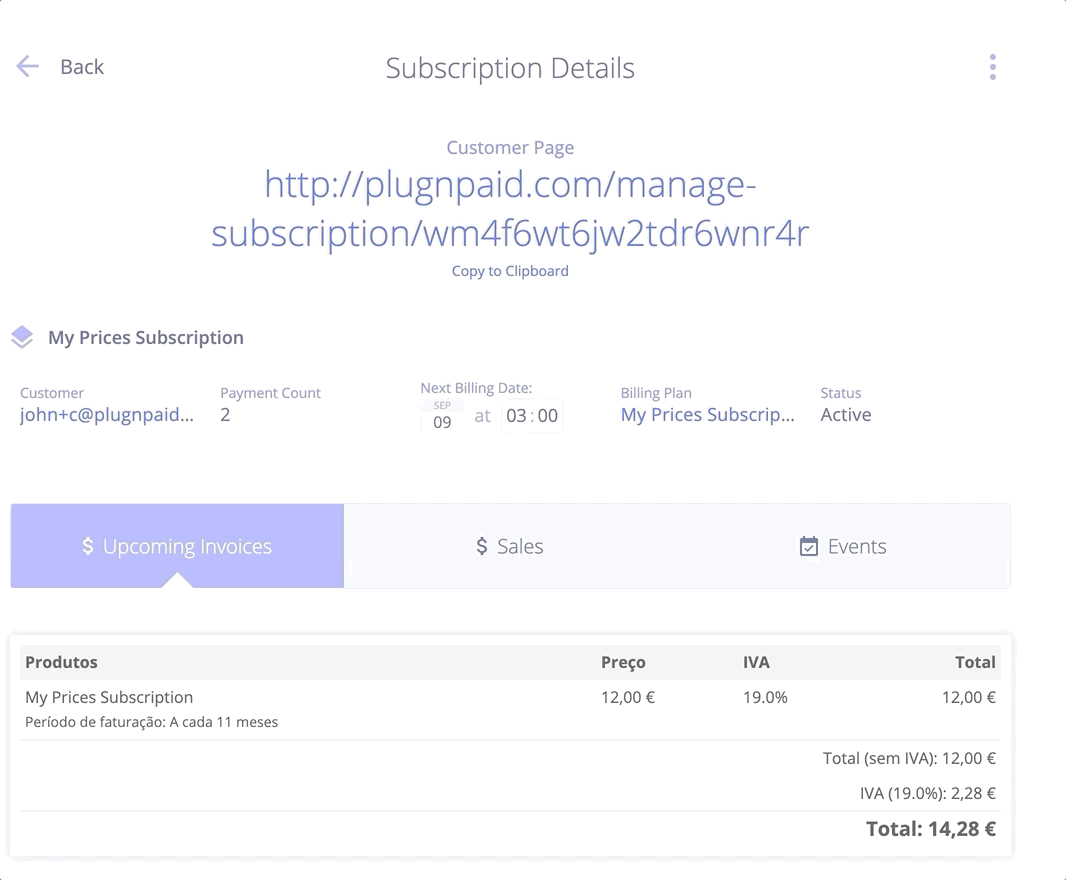 Other Improvements
Optimised the 3d Secure exceptions when a customer updates their credit card details for their subscription;
You can now see the upcoming invoice of an active subscription;
Bug Fixes
Fixed an issue where some subscription products were not being removed  when detaching a Stripe account;

We have added support for the Russian language in the plug&paid dashboard and the checkout cart. You, your customers, Affiliate Partners and your Superbolts clients can enjoy the local experience by switching the language from Settings.
The language is in BETA at the moment, so if you find any issues or have any recommendations for improvements, please get in touch with our Support team.

New Integration for Romanian merchants: Zap Courier
Our merchants based in Romania will be thrilled to find out that plug&paid is now fully integrated with Zap Courier, a local and affordable shipping company;
Your customers can fetch automated shipping rates  when purchasing your products;
You can generate labels and tracking numbers for your sales by choosing the "Add Tracking" option in your order's options menu;
When you Add Tracking for an order, your customer will receive a tracking number and link for tracking the shipping progress of the order, and the merchant receives the shipping label (AWB) over email.
You can attach your own API credentials and connect your Zap Courier account for even better negotiated rates;
Cash on Delivery orders will have a higher shipping cost, due to the trip the courier takes in order to return the cash payment from the customer.

The Invoice module has received a major update with many new features and highly awaited improvements:
Updates to the Invoice Payment Flow
When a customer attempts to a pay an invoice, the process can be interrupted and fail for multiple reasons such bad connection, payment gateway issues etc.
If the customer wants to switch payment gateways after initiating a payment request, they now have the option to restart the payment process with the click of a button. This applies to affiliate payouts as well.
Invoice Customizer (Beta)
You can now edit the invoice background, text colour and other minor elements of your invoices. Beware of the printer ink when changing the background.
Other Improvements
You can now edit the labels "License Keys" and "Terms" in your invoices and customise them according to language;
You can now customize the Appendix content of your invoices for each supported language;
Our users pointed out that in some countries it is legally required to have the customer information in the invoice in a specific position (either left or right). Now you have the option to set this up, according to your country's requirements;
You can now create an Invoice for any customer inside plug&paid. The customer's billing information, invoice prefix and next available invoice number will be automatically filled in according to their past invoices;
Invoices now support: Storno Invoices - just add a negative price to your invoice item if you want to create a negative invoice that will cancel another invoice. Many countries use this method when an older invoice (that was already submitted to the government) needs to be changed. Make sure you check with your accountant first, if you ever decide to use this feature.
Invoice numbers now auto-increment when creating custom Invoices, so that now all of your invoices have unique numbers by default, and you never have to worry about the invoice numbering again (unless you really need to, in which case you are still free to enter any number).
Bug fixes
Fixed an issue where the invoice language of a payout was not being autofilled correctly;
Fixed an issue with unapproved pending orders passing an invalid invoice text in the merchant's email;
Fixed a cache issue for some invoices;
Fixed a bug with the invoice annex not displaying line breaks correctly;

Bug fixes
Fixed an issue where emails for affiliate sales where being sent for unapproved orders;
Corrected the 'number of purchases via affiliates' count when viewing a customer;
Fixed an issue with the PayPal Individual email not showing in the payment gateway section;
Fixed an issue with some users receiving the 'Unshipped Order' email when they shouldn't;
Fixed an issue with the browser language not being remembered correctly while trying to log in the customer portal;
Fixed an issue with Google Indexing settings and already submitted sitemaps;
Fixed an issue that was causing the digital file of a duplicated product not to be saved correctly;
Improvements
Added Views & Sales analytics for each affiliate on an affiliate program;
You can now edit the shipping/billing address information of your contacts;
You will now be notified via email when your SMTP credentials stop working;

Improvements
Sofort transactions now always register pending orders regardless if the customer has completed the payment or not;
The cart now attempts to fetch the first available shipping rate as soon as the customer initiates a checkout flow;
Added support for Turkey;
Added support for Kazakhstan Tenge (KZT);
Updating quantities in the cart is now done via an 'Apply' button;
Doubled the time of automated timeouts due to inactivity;
Bug fixes
Fixed a UX issue on mobile where the 'One Time Fee' of subscription products was not displaying correctly;
Fixed an issue with the language of the payment callback URLs;
Fixed an issue with missing translations on the default 'bump' title;
Fixed an issue with images not updating when changing variations in the 2-click upsells;
Fixed a conversion issue with NTD (New Taiwan dollar);
Fixed an issue with optional questionnaire fields of type 'dropdown' being shown as mandatory;

Improvements
Option to enable Google reCaptcha on your signup pages;
Bug fixes
Fixed an issue where sometimes the default redirect domain was pointing to plugnpaid.com;
Fixed an issue that was not allowing some Superbolts to enable the affiliate marketplace option;
---
---