The most requested feature by our users has finally gone live! Our team has done a wonderful job at offering our users this incredible tool to multiply their sales.
You can now create your own Affiliate Programs and get a "ready-made" landing page to promote to your Affiliate Partners, allowing them to join and sell your products in exchange for commissions.
Oh, and did I mention the Affiliate Marketplace? Read more below.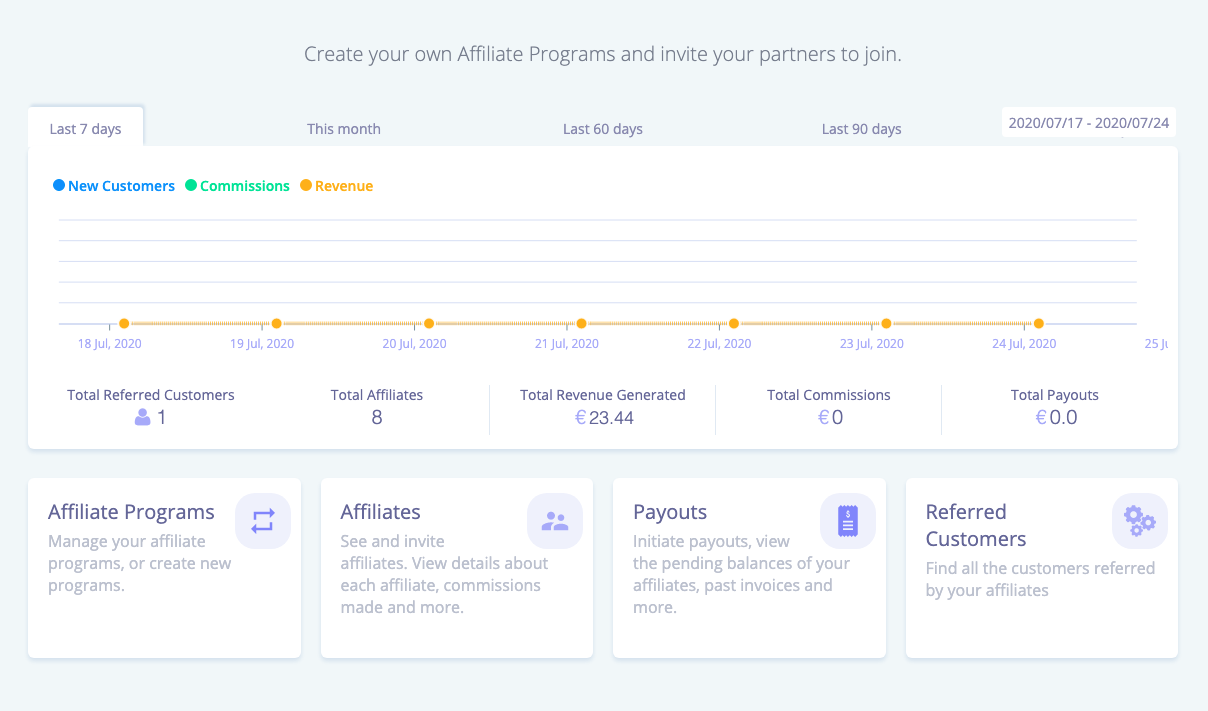 Affiliate Programs
You can add multiple Affiliate Programs;
When adding a Program, you can add the description of the program, which can be styled using the HTML editor, the commission value or percentage, which products are available for affiliate sales and more.
Make your Partner's job easier by adding marketing copy and uploading banners for them to download and use in their campaigns;
Offer refunds by adding a Payouts Delay;
Offer one-time, recurring and lifetime commissions for Subscriptions;
Choose any combination of our existing Payment Gateways to execute Payouts via payment links;
Create private Programs, which have no hosted landing page;
You can manually approve partners that want to join your program, or you can set it to "auto-approve". If a partner breaks your terms, you can always kick them off your program.
Public programs get a hosted and customizable Affiliate Program Landing Page;
Affiliate Partners
Portal: your partners get their own account and can use the Affiliate Portal to get their unique Checkout Links, keep track of Sales, Commissions and Payouts, as well as to join new Programs.
Bonuses: allow your partners to add a "Bonus" section in the Thank You page and purchase email, to increase your sales by enticing their audience with more added value. This feature can be turned on or off.
Affiliate Marketplace
This is a great way to boost your sales, even if you do not know any Affiliate Marketer. All plug&paid Users and Affiliate Partners can now see our Affiliate Marketplace in the Affiliates section of their admin panel and browse through the public Programs.

As the Marketplace grows, the number of Affiliate Partners that will join your program will grow, and so will your sales.
Superbolts
We also added some love for users that subscribed to our Superbolts reseller plan. They can:
activate their own whitelabel "Affiliate Marketplace", which is a paid addon and will show in the admin panels of their clients;
disable the Affiliates module from their Settings.
Surprise Feature
In order to help sellers with European customers, we have built a VAT reports section, which provides you with useful and centralized information that will help you submit your VAT and MOSS reports faster. You can find this feature under Invoices / VAT Breakdown.
Improvements
You can now set a "Minimum Order Price" in your Plug Settings;
Depending on the payment method, the Thank You page of the checkout funnel will show different messages, making it more clear that the customer must complete the payment in the new tab (or offline), for non-credit card purchases;
You can now easily see the product category under the product name, in the Products table;
We now display the plan price and VAT separately on the Sign-Up page for Superbolts plans;
We have removed the "Total Amount Spent" metric from the Customer Portal;
You can now use Order Approval for free orders as well;
You can now select the Product Variation when creating an Invoice;
You can now send the updated invoice to your customer when marking the order as "Paid";
You can now Approve and Decline what reviews to show on your checkout pages, from the Checkout Customizer;
New Superbolts Client trigger in Zapier;
Added two new discount "Apply" rules: "Order quantity bigger than" and "Order subtotal bigger than";
We are now sending a confirmation email to Superbolts clients when they cancel their subscription;
Minor VAT improvements in the invoice, for better accounting compliance;
Added different options for the Customer Invoice Language and for the naming of the "VAT" term in the cart;
Added Guatemala / Quetzal currency support;
Added Trinidad and Tobago support;
Added Uganda to the list of supported countries at checkout;
Bug Fixes
Fixed a bug that was causing abandonments to not be tracked on some mobile devices and browsers;
Fixed a bug that was sometimes causing Donation widgets to not function properly;
Fixed an issue where interrupted Instalment Plans were showing as Past Due instead of Cancelled;
Fixed an issue causing the Customer Portal login page to always use English instead of the visitor's browser language;
Fixed an issue where the Customer Portal was showing cancelled subscriptions as "Paused".
Fixed a bug where the user was not notified via email when a customer was cancelling their subscription from the Customer Portal;
Fixed a bug that was causing the Customer Portal consent to not be shown at checkout for Superbolts client accounts;
Fixed a bug causing the "Embed on a website" sheet to not function properly;
Fixed a bug that was causing the shipping cost to sometimes be saved as 0;
Fixed a bug that was removing new lines from the Invoice Appendix;
Fixed a bug that was not showing the customer avatar after upload in the Review screen;
Fixed an issue where the variation price was not showing properly in the Upsell Customizer;
Fixed an issue for 2-Step Upsells where the quantity field was not showing for unlimited quantity Services.
The redirect page after completing the PayPal step is now using the custom domain instead of plugnpaid.com;
Fixed a cart issue where the shipping cost was showing as "0" before the customer confirms the country; now, the shipping cost row is hidden until country confirmation is made;
Fixed a bug that was sometimes causing a "forbidden" error to show when exporting sales to CSV;
Fixed a display issue in the plugs table, where the revenue for Subscription plugs was not taking into account historical recurring revenue;
Fixed a Firefox javascript issue in the Webhooks sheet;
When adding "Worldwide" to a list of countries, the rest of the countries now properly get removed;
Fixed a bug where adding a customer from the Create Invoice sheet would save the country as "N/A".
Fixed a bug where the Customer Portal section was showing on Order Rejected emails;
Fixed a Safari sidebar scrolling issue in the admin panel;
Fixed an issue causing the "&" character to be saved as "&" in plug labels;
Added better translations for Dutch invoices;
Fixed Chinese date formats;
---
---