Finally, it's here!
If you own a Lightning or Agency account, you can now use your custom domain for hosted pages and emails! Discover the "SMTP Integration" and "Custom Domain" addons in the Addons page, as well as the "Social Links & Brand Logos" section in your Settings page.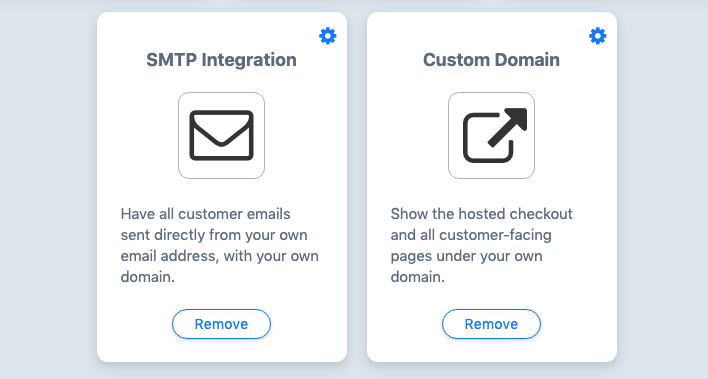 Custom Domains: Deploy the hosted checkout page and all links that your customers receive to your own domain, by adding a CNAME record.
Emails via SMTP: Send all customer related emails from your own email address, via SMTP.
Showcase your brand throughout the whole customer journey, by adding your Logo in the emails, invoice and all customer facing pages.
Add social links to your Facebook, Twitter, Instagram or Pinterest pages, to be shown in the footer of all customer-facing emails.
plug&paid branding and backlink are removed from all hosted checkout pages and all customer facing pages (cancel subscription, update credit card etc.) for all Lightning and above plans.
---
If you don't have a Lightning plan, don't worry! You will be able to unlock it at our next release, when we go out of Beta.
Until then, here's some more new features and improvements for all plug&paid users:
New Features
All emails have received a huge revamp! Professional, card-based design, with rich information and pleasant to the eye.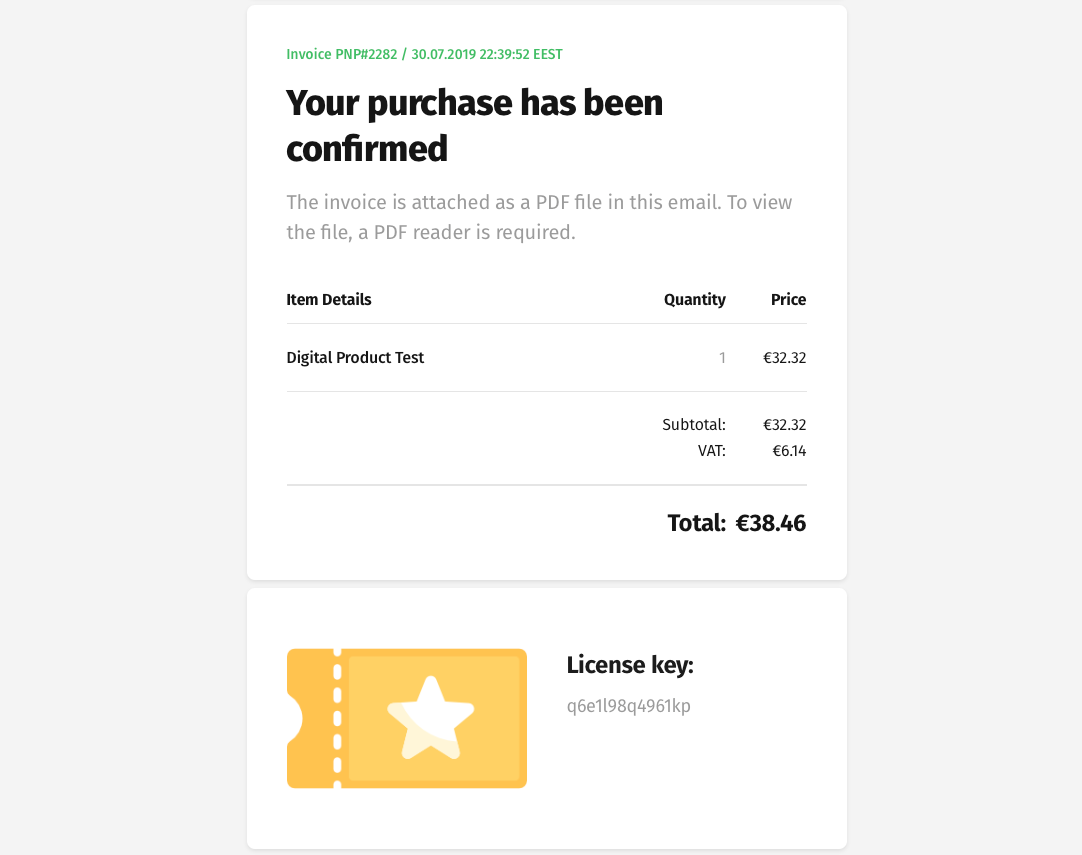 Each plug can now have multiple buttons, widget and/or links. These are identified as Call-to-Actions, or "CTAs". Each CTA has its own unique code. All the CTAs of a plug point to the same shopping cart, configurable on plug level. Each CTA can be activated or paused individually. You can also convert widget CTAs to buttons and vice-versa.
Tracking Statistics: monitor Views, Sales and Abandonments separately for each CTA.
Vouchers: You can now create discount vouchers by using our voucher autogenerator or by entering your own list. Each voucher can be redeemed once.
Order Approvals: Enable approvals and manually review each customer order before finalizing the sale and generating an invoice. Approve or decline with one click, straight from the email notifications. Digital files, licenses or coupon codes are sent automatically to your customers instantly after your approval. Currently supported for Cash on Delivery and Bank Transfer transactions for all product types, except for subscriptions.
You can choose a rounding method and decimal increment rounding when calculating taxes and percentage discounts for all non-subscription products.
You can now disable the hosted checkout page for a plug and exclude it from search engines crawlers.
New currencies: Namibian Dollar (NDA), Bangladeshi Taka (BDT).
New Emails: Trial expired, trial extended, download limit reached.
Improvements
You can now choose the duration of discounts for subscription products (once, forever, number of months).
New SMS Triggers for Twilio: On order approved and on order declined.
You can now add variants to service products.
You can now choose a quantity limit per order for service products.
New metric in the customer infopages: Customer Lifetime Value.
You can now arrange the order that variations appear in the cart after you have created your product.
You can now arrange the order that payment methods appear in the cart after you have created your plug.
Button and Widget CTAs automatically hide if no products are attached to them.
View the sold license in the Subscriptions infopage, for subscriptions with licenses.
Your customers can now download their digital files with one click, straight from the purchase confirmation email.
You can now block downloads for a digital product sale at any point after it is made, in case you are facing disputes and other issues with your customer's order.
Optimised the page that customers see when the download limit is reached.
Improved the in-app events shown at the bottom of every infopage.
Bug Fixes
Fixed an issue with decimal prices and Stripe refunds.
Fixed an issue with the verification email when changing your account email address.
Fixed a bug where sometimes jQuery would load multiple times in the cart.
Fixed several UI fixes in the cart.
---
---