It's finally here, folks! It's been quite a journey developing the biggest update we've ever released, and we're really excited to have released it to our users.
So prepare some popcorn and a big cup of tea, while you read our summary of what's new in this version.
Release Notes
New Checkout cart design
We have learned from the way our merchants were configuring their plug&paid checkout flows and have created an improved concept, designed to increase conversions and to better fit when embedded in modern website designs. On top of that, we've sprinkled industry-standard best practices, resulting in the new gorgeous concept: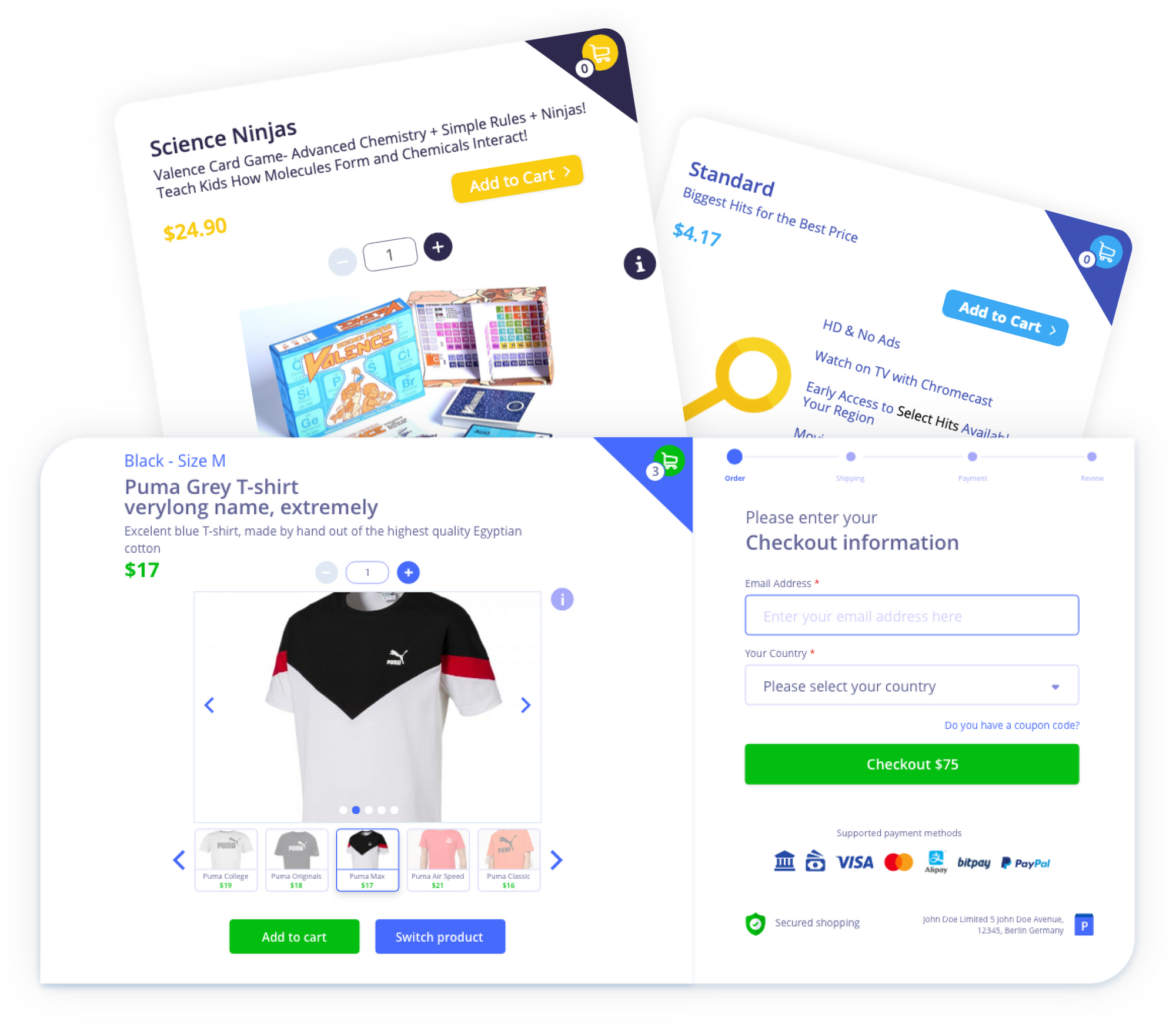 New Checkout features
Multi-Product Checkout: Sell multiple products from a single shopping cart. Combine billing plans, services, digital products and add upsells in the same checkout flow;
Add your brand's personality by changing colors in the Cart Customizer;
Create long sales letters by adding custom Rich Text information above and below the Cart in your hosted pages;
Collect Information with Custom Fields in a Questionnaire during Checkout;
Create Donation checkout flows with the new Donation Plug; Supported for all payment methods.
Collect Reviews from your customers with our automated "Leave a Review" email after purchase. Select which ones to show in your Plug's Checkout;
Get paid with Instalments, if you have a Stripe account attached; Charge interest for each instalment, ask for a percentage up-front and many more feature.
New Dashboard design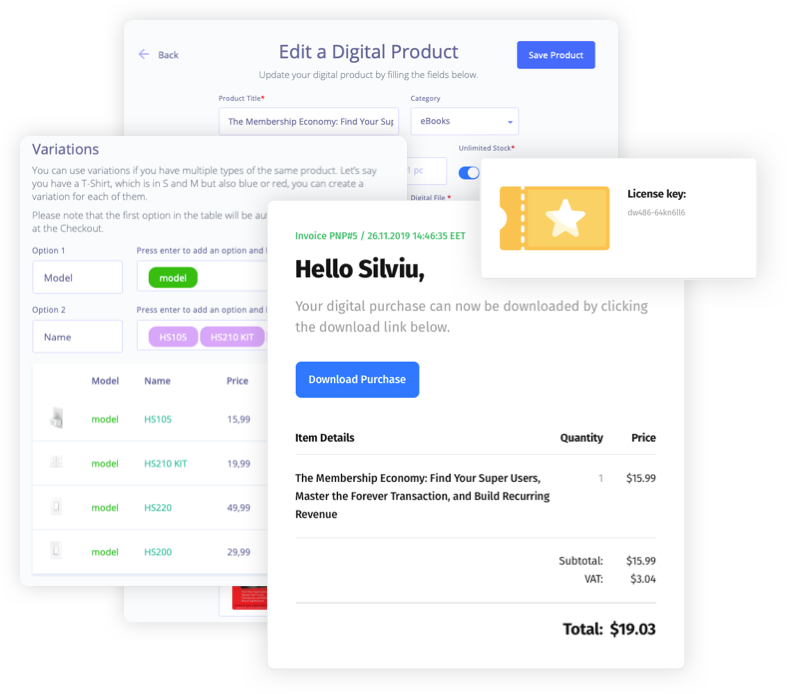 New and improved "sheets" design, always keeping you in context;
In-depth Statistics about Sales, Views and Channels;
3 new dashboards with relevant metrics for your business;
New Power-Ups for your plugs;
New concept: Channels - the different links that you distribute across the web are now tracked as Channels in its own section, for easy tracking of their performance; The unique advantage is you do not have to update the links, or embed codes ever again. Just assign a different plug, if you need to trigger a different checkout flow.
Deprecated all CTAs - existing CTAs will continue to work, but we recommend creating new Channels and removing all CTAs.
New Security Features
No more passwords! We have switched to a passwordless login, by sending a 6-digit security code to your email instead of you having to remember a password.
All endpoints have been added an extra layer of security;
You can now assign other people granular permissions to help manage your account, by inviting Teammates.
New Marketing Features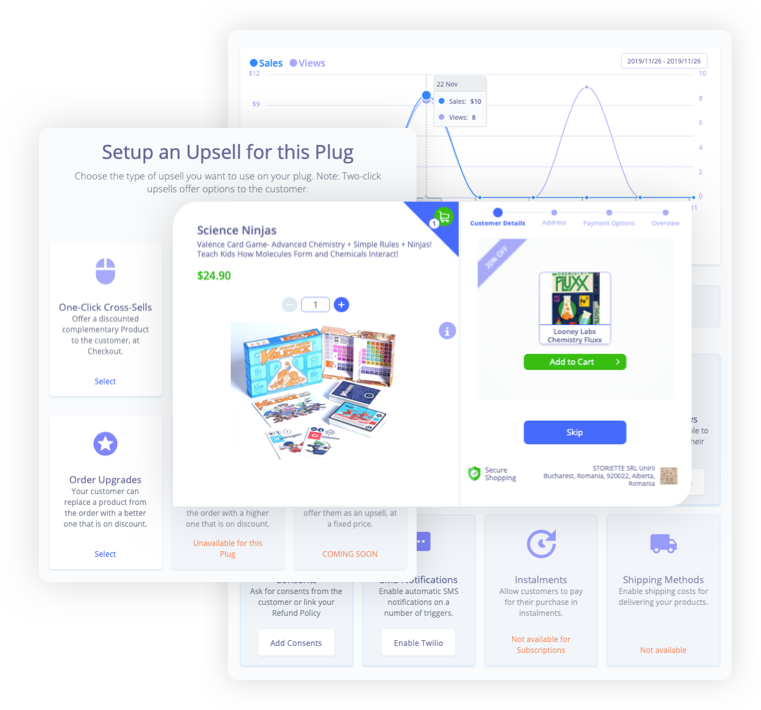 One-Click Cross-Sells - Offer a complementary Product to the customer, at a discount;
Subscription Cross-Sells - Offer a Subscription Plan as a cross-sell, at a discount;
Two-Click Cross-Sell - The customer can choose quantity or variants before adding the Product to the Cart;
Order Upgrades - A user can replace a product from the order with a better one that is on discount;
Subscription Upgrades - A user can replace a Billing Plan from the order with a higher one that is on discount;
Customer Portal
Customizable Login page, with custom background image and custom greeting text;
Install on your own domain via CNAME, access via /login;
Passwordless login, via 6-digit code sent over email;
Customers can see previous Orders;
Customers can download Invoices;
Customers can access Digital Products;
Customers can cancel Subscriptions;
Customers can update credit cards for Subscriptions;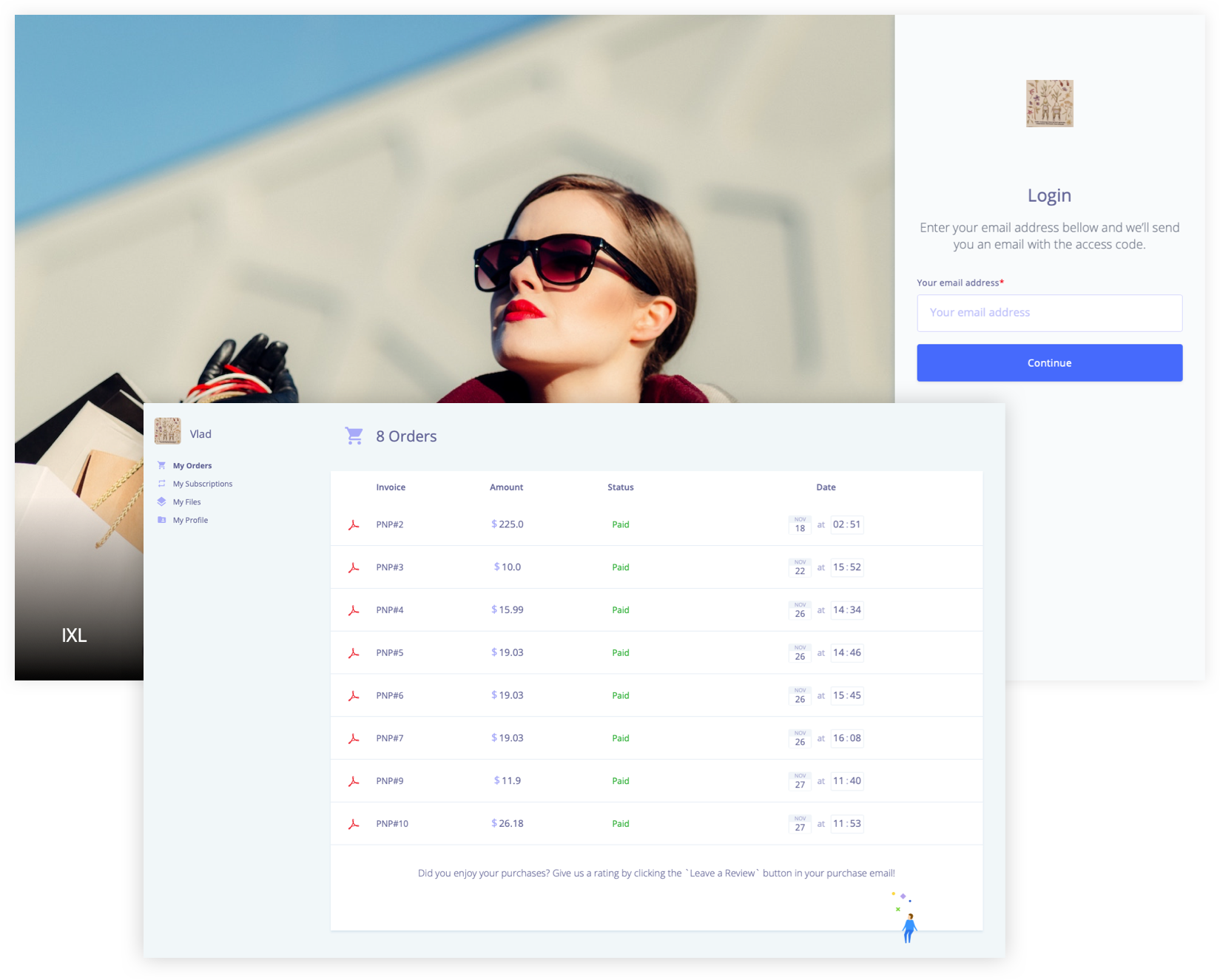 Agency Features
Manage multiple brand accounts with the same login;
Invite your Team to help you grow your business and manage your clients;
Full Whitelabel: you and your team log into yourdomain.com/account;
Assign permissions for each Teammate account, either for your account or your Clients' accounts;
Invite your Clients to manage their sales by logging in from your own domain, into your own Whitelabelled eCommerce solution, via yourdomain.com/account;
Configure the Client Account Permissions to choose what they can do inside;
And we're not stopping here. By end of this year, we are determined to deliver everything we had promised our early adopters, so you will start seeing regular updates, as we start to roll these features in the days to come:
Coming Soon
Affiliates: use plug&paid to track sales from your different affiliates and calculate payouts, making your life easier when paying out the affiliate commissions.
Webhooks
Zapier
Ad-Hoc Invoices
We can't wait to see your businesses grow, with the renewed superpowers packed in the new plug&paid! Please submit issues or improvement suggestions to our helpdesk and make sure to  share your success stories with us at hello@plugnpaid.com